GL™ (GL™ and GLP™) is the registered trademark standing for "Glass Lining". GL is adopted in unique manufacturing technique that glass tube is expanded to the surface inside steel pipe.
GL™ has got splendid reputations for anti corrosion, anti adhesion, and anti penetration in chemical industry since 1949.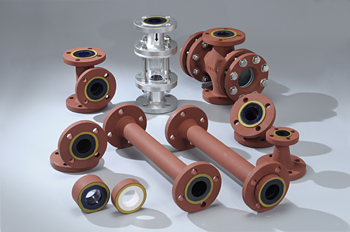 ●There are no pinholes in glass-lined layer.
●Glass-Lined layer has extremely tough to mechanical and thermal
properties. GL

™

can be used under high temperature, pressure, and
full vacuum.
●Glass-lined surface is smooth, so it can inhibit the growth of
scale and crystal and the adhesion of them.
●Sealing surface of GL

™

flange connection is polished evenly.
There is less residual liquid in connected pipe area because pipe and
sealing surface are at right angles to one another.
●Sealing surface is flat, which leads to install with less tolerance.
Fixed flange makes pipe installation easier.
*Above pictures of each GL™ item are JIS 10K flange type. ANSI standard flange is also available.
*We can provide welded type fitting. In addition, loosen flange pipe and fitting are available. These are made to order. Please contact with us for more details.
We use the solid glass tube as component of glass lining.
At first, we prepare a no pinhole solid glass tube and steel pipe. Then, we insert the glass tube into steel pipe as illustrated below (left), and heat them together. When inserted glass tube is softened, glass tube is expanded with internal pressure. The pressure makes glass adhere completely to steel pipe which has already been expanded at high temperature. Pipe is shrinking while dropping to normal temperature, and outer steel pipe evenly compresses inner glass tube by the difference of expansion coefficient between steel and glass. This compressive stress raises the mechanical strength of GL™. Therefore, lined glass inside steel pipe is at same condition as 'toughened glass'. That is the reason why customer can use GL at high temperature and pressure without fear of breakage.
*Glass tube for GL™ is specially formed and there is no possibility of a pinhole.



1949

[GL

™

] pipes launched by Iwaki Glass

1996

Changed glass width of GL

™

flange ends to the current expanded type

1999

Renamed Asahi Techno Glass through a merger

2007

Operations transferred from Asahi Techno Glass to Asahi Glass (Current:AGC Inc.)

2010

Change of commercial distribution, to AGC Technology Solutions (wholly-owned subsidiary of AGC Inc.)