Procurement & Trading Group
We can apply procurement and sales functions (as a trading company for equipment and materials) for consumables, spare parts and equipment for FA for our AGC Group companies.
Its expertise in international logistics enables it to coordinate logistics and provide consulting. It also uses its characteristics procurement and sales functions, personnel, and infrastructure, etc. to the full, to provide speedy support for realizing global quality.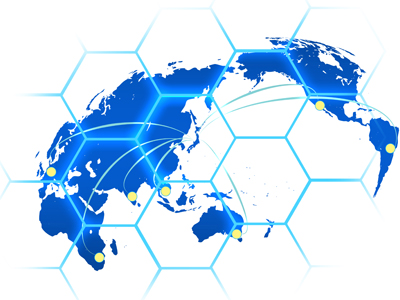 FONTEX™ Plastic Optical Fiber
FONTEX is able to function even when knotted or bent while existing Silica Optical Fibers is not able to.

Therefore, FONTEX is the reliable and safe optical fiber which is capable of stable high-speed data transmission, even with a certain level of rough treatment.
Coordinating international logistics with equipment and materials trading functions
We have a track record of over 20 years in import/export operations for AGC factories around the world.
As a professional team in international logistics, we use our accumulated expertise to develop unique equipment and materials trading company functions.
The ability of individuals to handle complex, high-volume projects with high-quality work
Advanced overseas trading operations Know-How and communications skills
The dynamism and emergency response ability of the AGC Group as One Team
Material procurement ability using the strength of the Group