Mobility Group
Equipment, machinery and systems for manufacturing automotive fabricated glass CNC-cutting machines, drilling machines, beveling machines, and automatic handling systems.
This group delivers one-stop technical support services for automotive glass manufacturing equipment, extending from design through parts procurement, installation, commissioning guidance, and post-installation afterservice. With plenty of experience of overseas equipment procurement, design ability with 3D CAD systems, and other skills, it is characterized by its high technical ability to realize the customer's vision. The group can also customize automotive glass equipment to match the customer's requests.
Electronics Group
At Electronics business of AGC Group companies, we provide integrated service such as planning, design, equipment procurement, construction management, and start-up support.
Tooling group
œMolds, jigs and other tooling for manufacturing automotive glass
This group works on the stages from design to manufacturing of the molds etc. that are essential for automobile glass manufacturing. It has a high level of technical ability to meet every customer need, while reflecting each automaker's concepts in designs. Using a global network built up through importing and exporting consumable parts,etc. We can partner with overseas operators to produce goods and deliver them overseas.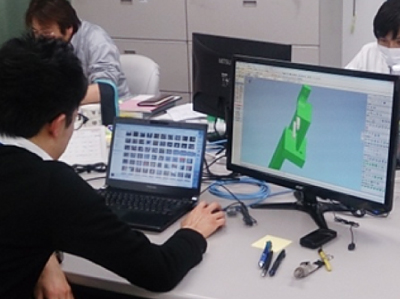 œSupporting the AGC Group as it introduces equipment in its global expansion
œDesign ability using 3D CAD/CAM
œThe advanced technical abilities in mold design and manufacturing, to realize the customer's vision.
œThe ability to use foreign companies to produce and deliver goods overseas, including import/export work.
œDeveloping human resources to build linguistic abilities through overseas experience.

Fabricated Glass (laminated for automotive)
mPre-process for Automotive Glassn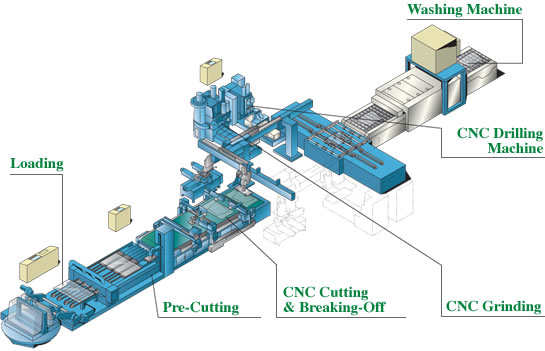 mPost-process for Windshieldn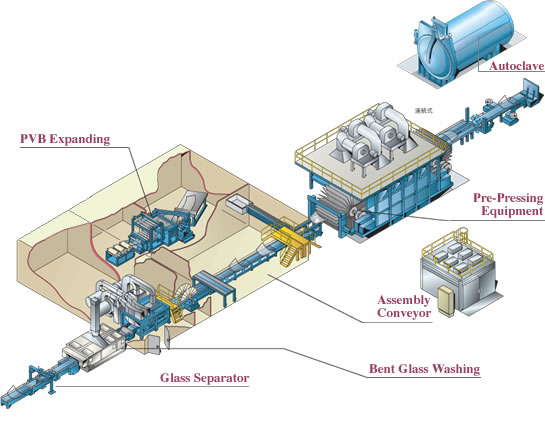 Robot Grinding Machine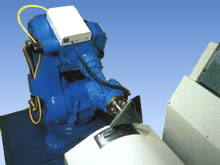 Robots achieve high-quality chamfering
œHigh-quality grinding

High-rigidity longitudinal grinding machine produces high-quality grinding to maximize the effects of water cooling.
The fabricating water collecting function prevents the scattering of the water. That makes maintenance easier and lengthens equipment lifespans.

œSpace saving and automation

Use of compact robots for handling saves space and labor.

œOffline teaching system

A dedicated data creation system makes it possible to create glass shape data for robot grinding quickly, on a computer, with absolutely no robot teaching.

œAdaptable to FA@

Data can be centrally managed over a network, and applied to FA for a factory.
That is ideal for high-variety and small-lot production.
Bent glass washing and drying machine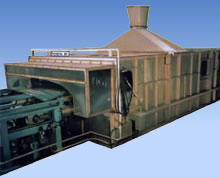 High-pressure water cleaner
œHigh-pressure water cleaning

Bonding surfaces are washed with high-pressure spray.
Purified water is used to stabilize film bond strength.

œDrainage and drying

Nozzles are used to adapt to various shapes.

œSeparating

Sheets are separated automatically from one pair of glass sheets. This saves labor and ensures safety.
Continuous pre-pressing device (high-productivity pre-pressing device)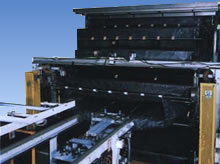 œSupport for high productivity

All handling can be automated, to save labor.

œMaintaining high quality

Rubber bags are used to enable high-quality bonding to difficult shapes.

œNo job changes required

Whatever the glass size or shape, there is no need for job changes, and diverse shapes can be handled.
Film extender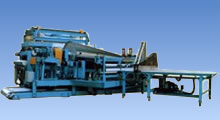 Smooth shade band
œHigh quality

Film is hot rolled uniformly, and then cold hardened uniformly, to enable smooth extension with little distortion or irregularity. The margin of contraction after extension is stable.

œSmall-lot, high-quality production is possible

œVarious film types are supported

It can be used for refrigerated film.
Molding technology fields with experience
Hot glass bending molds, jigs for air-cooled glass strengthening
Glass sucker handling
Cast material: SUS304 FCD weight: ~800kg
Plastic mold fabrication: Gun drill hole penetration length ~ 1,000mm [ƒÓ16mm]@
Surface treatment (cermet, etc.)